Home Page
Ambient Noise Compensation for Sound Field Systems Automatically Adjusts Sound Field Output
SmartSpeaker "Intelligence"™ is an ambient noise compensation accessory for sound field systems that has been field-tested and proven to improve listening conditions in classrooms.

Developed under contract with the U.S. Department of Education, this state-of-the-art technology was designed by Oval Window Audio to monitor background noise and automatically adjust the sound field output. It maintains optimal listening conditions within classrooms with varying background noise conditions.

Overcoming Fluctuating Background Noise Obstacles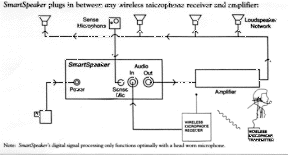 Studies have shown that fluctuating background noise, common in classrooms, adversely affects students' performance and teachers' health. Unlike typical sound field systems, those that are equipped with SmartSpeaker "Intelligence" automatically adjust to compensate for changing background noise and varying teacher microphone levels. (Click on image for larger view of diagram.)

The results? Field-tested and proven in a study by Crandall, Johnson, Lederman and Smaldino (2001), sound field systems equipped with the $349.00 SmartSpeaker "Intelligence" accessory:
Increased signal-to-noise ratios by as much as 12 dB.
Resulted in up to 70% improvement in students' word identification scores (in varying background noise).
Were touted by teachers who felt it was easier to be heard and that their voices sounded much clearer.
Were the preferred classroom system by 95% of students polled.
Come with a satisfaction guarantee. If within 30 days, you are not satisfied with this ambient noise compensation accessory, simply call us at (303) 447-3607. We'll be happy to issue a replacement or a refund.

E-mail Oval Window Audio Today
SmartSpeaker "Intelligence" easily connects between any wireless microphone receiver and sound system amplifier. It is compatible with certain sound field systems such as those manufactured by LightSpeed. For optimal results, only headworn microphones should be used. If you have any questions about this small add-on sound field system accessory, simply e-mail us directly. One of our representatives will get back to you promptly. Just e-mail your message to info@ovalwindowaudio.com
---
About Us // Induction Loop Assistive Listening Systems // Induction Loop Receivers // Induction Loop Testing Equipment // Ambient Noise Compensation // Vibrotactile/Multisensory Sound Lab // Related Articles // Loop Systems & Accessories Pricing & Ordering // Contact Us
---
This site created with the help of The Write Direction, Kauai, HI.