Home Page

Induction Loop Receivers for Hearing Impaired Individuals Without Telecoil-Equipped Hearing Aids
Oval Window Audio's Induction Loop Receiver is compatible with all induction loop assistive listening sytems.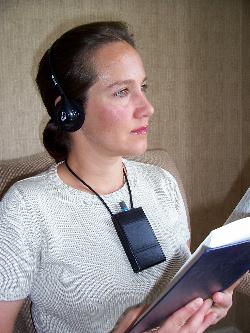 Designed for use by hard of hearing people who do not have T/telecoil-equipped hearing aids, the Induction Loop Receiver provides high quality amplification of sound transmitted by induction loop systems. (Click on photo for an enlarged image.)


In addition, for facility managers and system installers, the receiver provides visual as well as auditory confirmation of system performance. Click here for instructions on how to use Oval Window Audio's Induction Loop Receiver.



Important features of the Induction Loop Receiver include:
LED confirmation of loop signal strength (re: 200 & 400mA/meter)

Maximum 110 dBA SPL output
Powered by 9 volt battery (included) for 50+ hour life
Rechargeable with optional battery & charger
Battery condition check LED indicator

Large volume control and on-off switch
Noise filter switch
Convenient built-in neck cord
Compact & lightweight: 7/8" D x 4" H x 2 1/2" W, 5 oz.
Lightweight stereo headphones included (ear buds available)
$99.95 suggested retail price

Back to Induction Loop Assistive Listening Systems List, click here.
E-mail Oval Window Audio Today
If you have any questions about our Induction Loop Receivers, simply e-mail us directly. One of our representatives will get back to you promptly. Just e-mail your message to info@ovalwindowaudio.com
---
Home // About Us // Hearing Loops // Induction Loop Assistive Listening Systems // Induction Loop Testing Equipment // Ambient Noise Compensation // Sound Field System Accessory // Vibrotactile/Multisensory Sound Lab // Related Articles // Loop Systems & Accessories Pricing & Ordering // Contact Us
---
This site created with the help of The Write Direction, Kauai, HI.