Home Page
The FlightSound™ — Airplane Assistive Listening System Makes Communication While Traveling Easier

Announcing FlightSound™ — the first on-board airplane assistive listening system! Designed exclusively for use during air travel, this portable battery-powered hearing assistance system helps hearing impaired individuals hear:
Airport announcements about gate information and flight connections.
Airplane safety information expressed at the beginning of a flight.
Movies and music during your flight.
Flight attendants and communicate with them in return.
Neighboring passengers who they can then converse with in return.
The Only Airplane Assistive Listening System in the World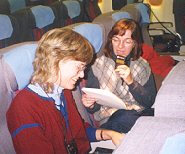 FlightSound is the only assistive listening system designed specifically for airplane travel. FlightSounds' advanced signal processing circuitry smooths out the varying sound levels typically found with airplane sound systems. The system's optimized output provides the most comfortable and intelligible amplified sound available for hearing impaired travelers today.

Compact and lightweight, FlightSound conveniently fits in a briefcase or a hand bag. Lab-certified safe for use onboard airplanes, this airplane assistive listening system includes:
A 250 Khz infrared short range (6-8 feet) transmitter and receiver.
Noise-canceling microphone (built into transmitter).
An automatic transmitter battery saver mode.
Maximum 130 dB SPL output with 100-8 Khz +/- 3 dB frequency response.
Dual high-output low distortion earphones.
Rechargeable 9-volt NMH batteries (15-20 hour life).
Padded storage and carrying case.
Patch cord for plugging into an airplane's sound system.
Adjustable neck cord built into the transmitter and receiver.
Easy-to-follow instructions.
One-year warranty on parts and labor.
Click here to read "Flying the Accessible Skies . . ." as well as the results of a survey regarding the FlightSound system.
Exclusively Distributed by HITEC Group International
The FlightSound Airplane Hearing Assistance System is available exclusively from HITEC Group International in Illinois. If you have any questions about this system, simply e-mail HITEC directly, call them toll free at 1-800-288-8303, or visit their FlightSound Web page by clicking here.
---
Home Page // About Us // Induction Loop Assistive Listening Systems // Induction Loop Receivers // Induction Loop Testing Equipment // Ambient Noise Compensation // Sound Field System Accessory // Vibrotactile/Multisensory Sound Lab // Related Articles // Contact Us

---
This site created with the help of The Write Direction, Kauai, HI.